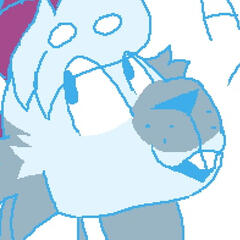 Quasar Arts
Hello! Here you'll find examples of my work, along with commission pricing. Thanks for lookin!
Pricing
Telegram Stickers - 12$ each
subject matter can be anything from basic expressions to extremely specific inside jokes, don't be afraid to get creative!
PIXEL ICONS - 15$
FULL BODY - 45$
Extra elements like objects and backgrounds will add 5-15$ depending on your desires. Extra characters cost 20$ each
BADGES 55$+
(PLEASE NOTE: I DO NOT HAVE A WORKING PRINTER OR A LAMINATOR ATM. YOU MUST DO THOSE THINGS YOURSELF)
REF SHEETS 75$+
The base price includes a frontside and backside shot, a color palette, name and pronouns. Outfits (up to 3) is an extra 15$. (these can include nsfw bits if you desire, just ask me!)
FULL COMPOSITIONS -80$+
A FULL ILLUSTRATION, COMPLETE WITH COMPLEX BACKGROUND. DON'T BE AFRAID TO ASK ME TO GET EXPERIMENTAL! THIS IS WHAT I LOVE DOING! EXTRA CHARACTER FEES APPLY HERE AS WELL.
terms of service
thank you for the interest in my art! I'm pretty laid back as far as what does and doesn't fly when you commission me, however I do have a few guidelines that you must follow:


-The art you receive through me can be posted, shared, and used anywhere you wish,
as long as you credit me!


-Please do not claim my art, characters, ect as your own, especially for RP reasons (however please feel free to use commissioned art in RP's, just don't claim you drew it)


-Turn around time is usually less than 2 weeks. If that amount of time has passed and there's radio silence from me, feel free to remind me about it!


-I WILL USUALLY SEND 1-3+ WIPS VIA WHATEVER CONTACTING SYSTEM WORKS FOR YOU.


-I WILL ASK IF THE WIP IS TO YOUR LIKING, PLEASE BE HONEST IF YOU WANT SOMETHING CHANGED BC I WILL NOT CHANGE THINGS ONCE YOU CONFIRM IT
(For example, if I send you a wip of the linework, and you want something changed, please tell me right then and there. I will not be mad!

I WILL be irked, however, if I move on to coloring and you ask me to change something with the linework after you confirmed it!)



-AS FAR AS HOW MANY CHANGES YOU CAN REQUEST, THERE ISN'T REALLY A LIMIT. I WILL KEEP CHANGING IT UNTIL YOU LIKE IT.

.

WHAT I WILL / WILL NOT DRAW:

-I am pretty much down to draw most things. Please ask me if you're unsure of stuff!

I AM NOT DOWN TO DRAW:

-Vore
-NSFW Feral
-Humans
-Diaper/Scat/Watersports
-Underaged characters in NSFW settings

Again, please ask me about specific requests!

.

That's it! Thank you again for your support, and have a lovely day!